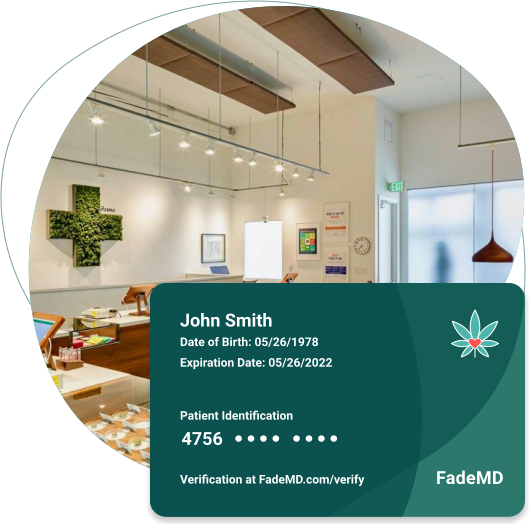 Get your Medical
Marijuana

Card

Simple 10 minute online process.

Charged only if approved.

Starting at $39.

Already have an account?Log in
Get approved easily & instantly

Sign up
No appointment required! Simply register through your computer, tablet, or mobile device.

Meet with a Doctor
Medical Marijuana Doctors are on standby, and will see you once you finish your application.

Instant Approval
You can download your medical marijuana recommendation directly from our website.

24/7 Verification
We offer 24/7 verification through fademd.com/verify
Benefits of having a Medical Marijuana Card
Required for Ages Under 21
Many States require a doctor's marijuana recommendation for patients under the age of 21.
Access to Better Products
Enjoy all-access privilege to marijuana products. Patients have exclusive access to higher doses.
Tax Savings and more
Medical Marijuana States offer up to 25% savings to patients with a card.
Exclusive Rights
A medical marijuana recommendation grants you housing, employment, and various other rights.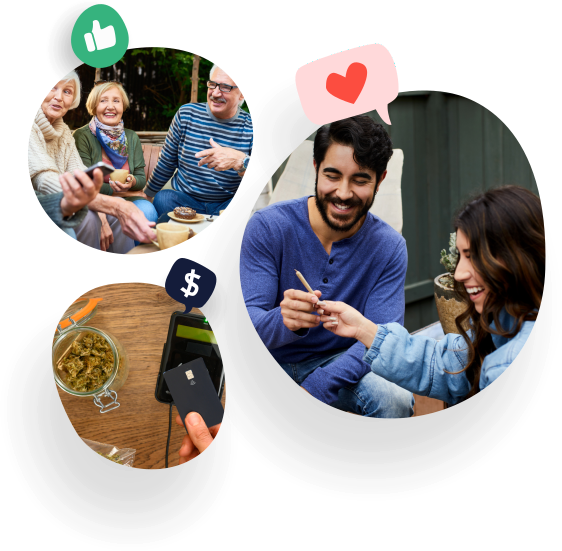 Board Certified Doctors
When you use FadeMD, you will be connected with a doctor or medical practitioner who is fully licensed to recommend medical marijuana in the state in which they practice.
100% private & HIPAA compliant
No government lists or public databases! You remain in full control of when, how, and to what extent others may access your health information. We secure all information according to HIPAA compliance.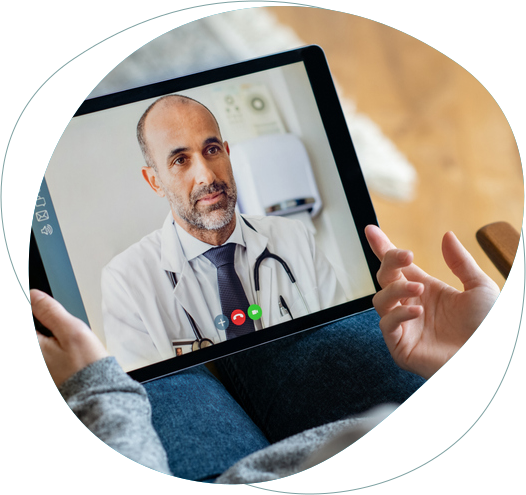 What our patients have to say
Friendly customer support team
4.9 out of 5 stars from 8.1k reviews
We're making medical marijuana easy.
Marijuana and Health
Even though research on cannabis is in its early stages, the proposed benefits are numerous. Cannabinoids may be helpful in treating nausuea and vomiting, epilepsy, cancer, loss of appetite and weight loss among many other symptoms. Some of the most common symptoms patients seek marijuana treatment for are:
Discuss with the Medical Marijuana team
Doctors keep up to date on the latest medical marijuana research. Describe the symptoms you have been experiencing directly to a medical marijuana doctor, and the doctor can recommend the best products and strains to you. On a go forward basis you will be notified of different treatment plans that may work for you.
Frequently Asked Questions
FadeMD is a telehealth platform that allows you to connect with board certified medical practitioners who can legally approve you for a medical marijuana recommendation.
Talk to an expert in marijuana on-demand
Marijuana Advice from an Expert
Upon approval, our marijuana expert will contact you to you to provide non-medical advice on any marijuana-related topic.
Shopping and Product Advice
We know the marijuana market well and can point you to the best available treatment options.
Usage & Dosage Questions
We can advise you on the many ways to consume marijuana and help you find a method you're comfortable with.