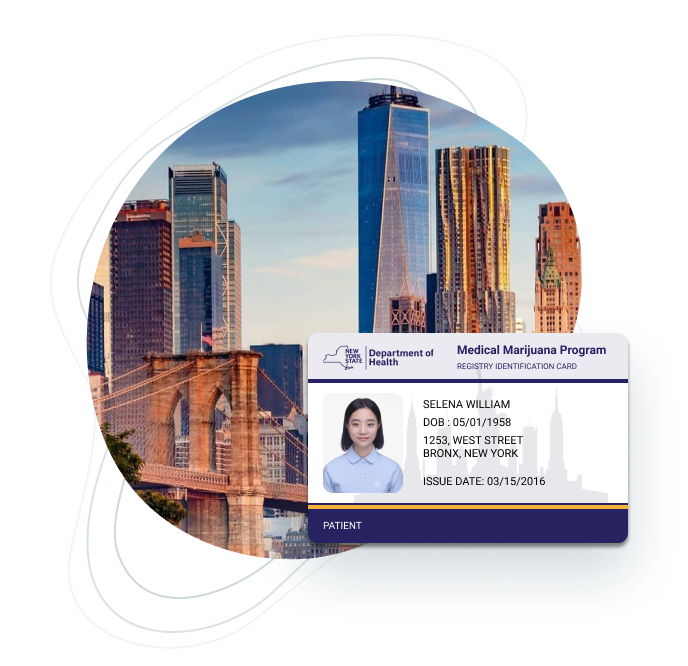 Get your Medical
Marijuana

Card in New York

Simple 10 minute online process.

Charged only if approved.

Starting at $99.

Already have an account?Log in
Get approved easily & instantly

Sign up
No appointment required! Simply register through your computer, tablet, or mobile device.

Meet with a Doctor
Our medical marijuana doctors are on standby, and will see you once you finish your application.

Instant Approval
You can download your medical marijuana recommendation directly from our website.

24/7 Verification
We offer 24/7 verification through fademd.com/verify
Benefits of having a New York Medical Marijuana Card
Required for Ages Under 21
Many States require a doctor's marijuana recommendation for patients under the age of 21.
Access to Better Products
Enjoy all-access privilege to marijuana products. Patients have exclusive access to higher doses.
Tax Savings and more
Medical Marijuana States and dispensaries offer up to 25% savings to patients with a card.
Priority Dispensary Access
We work directly with dispensaries to get huge discounts and priority access for our patients.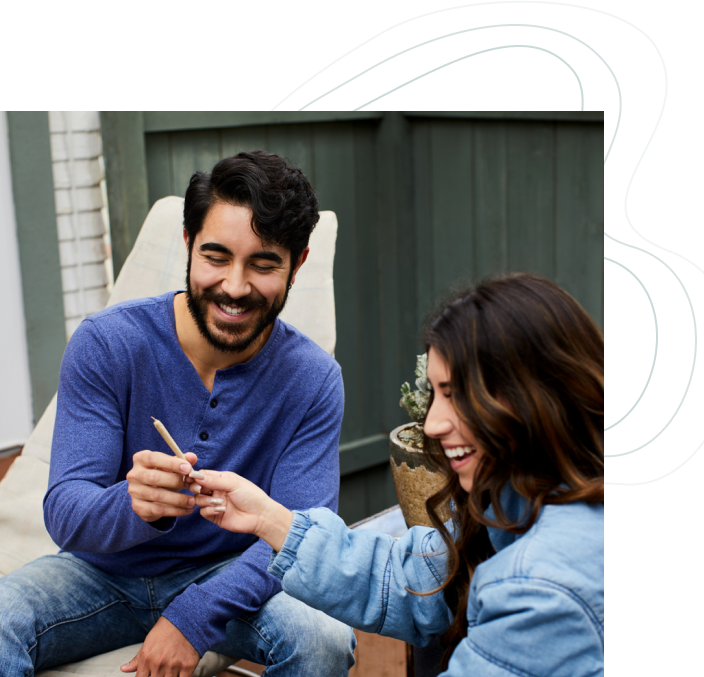 What our New York patients have to say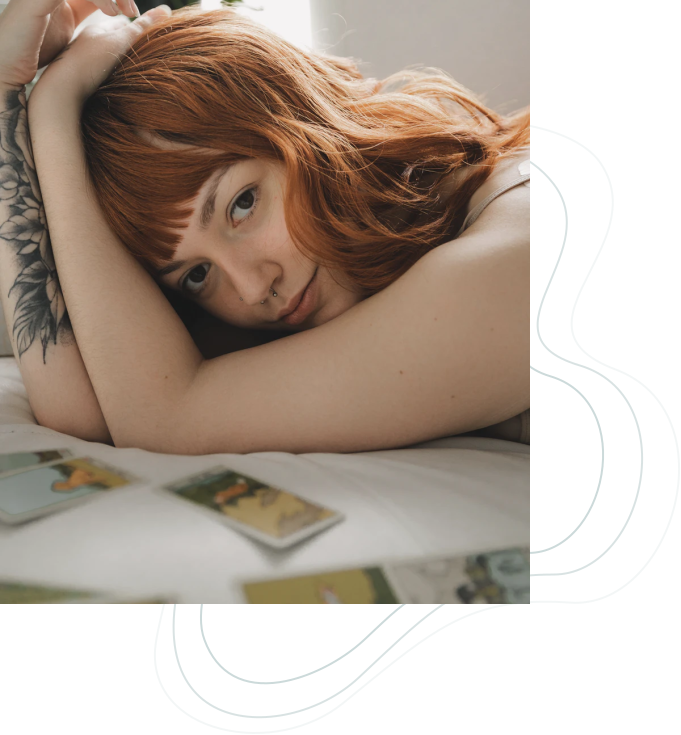 I loved my FadeMD doctor! The approval process is quick and easy and customer service always answers any questions I have.
Jasmine M.
Verified customer
Friendly customer support team
4.9 out of 5 stars from 8.1k reviews
We're making medical marijuana easy.
How to get your medical marijuana card in New York
In order to get a registry identification card (medical marijuana card) through the New York State's Medical Marijuana Program, you must go through the following steps:
Medical marijuana recommendations, or as they are called in New York "patient certifications" are required to obtain medical marijuana. Sign up on FadeMD.com where you can connect with a licensed medical practitioner, if you are 18 years old or older, to see if medical cannabis is right for you. All FadeMD.com medical practitioners are fully licensed and registered with the New York Department of Health.
Obtain your patient certification from your FadeMD medical practitioner. To qualify for medical cannabis and obtain your patient certification, you must have a qualifying condition. Qualifying conditions include chronic pain, PTSD, epilepsy, cancer, inflammatory bowel disease, HIV infection or AIDS, multiple sclerosis, amyotrophic lateral sclerosis (ALS), Parkinson's disease, neuropathy, spinal cord injury with spasticity, Huntington's disease, pain that degrades health and functional capability as an alternative to opioid use or substance use disorder. The qualifying condition must also be accompanied by at least one of the following conditions: severe nausea, cachexia or wasting syndrome, seizures, severe or chronic pain, PTSD, severe or persistent muscle spasms, opioid use disorder.
After you are certified, you must create an account at https://my.ny.gov/ and register. Patients are able to designate a maximum of two caregivers. If a patient would like to designate caregivers, the caregivers will also have to register.
Once your registration has been approved, you will have access to your temporary registry ID card in your https://my.ny.gov/ account. With your temporary registry ID card AND a government issued ID card, you will be able to purchase cannabis from a registered organization's dispensing facility (marijuana dispensary) in New York State.
Your official patient or caregiver registry ID card will come in the mail in approximately seven business days.
The New York Compassionate Care Act (S7923) was signed into law in July 7, 2014 by Govenor Andrew Cuomo. The Compassionate Care Act (CCA) regulates the manufacture, sale, and use of medical marijuana (MMJ) in New York State (NYS), which is designed to "strike the right balance between potentially relieving the pain and suffering of those in desperate need of a treatment and protecting the public against risks to its health and safety." The New York State Medical Marijuana Program took 18 months to rollout and dispensaries opened their doors January 7th, 2016.
Only certified physicians, nurse practitioners and physicians assistants (under the supervision of certified physicians) can recommend medical marijuana in the State of New York. In order to be certified the physicians, nurse practioners and physician's assistants must be in good standing to practice in the State of New York and must be qualified to treat the qualifying condition. Certified practioners must also complete a four hour course administered by the New York Department of Health and register with the New York Department of Health as a course accredited physician who is qualified to certify patients for medical marijuana.
A patient must register with the State of New York Department of Health in order to participate in the medical marijuana program. For information on how to register please read out HOW TO GET YOUR MEDICAL MARIJUANA CARD IN NEW YORK section above.
Each certified patient is allowed to have up to a 30-day supply as determined by registered practitioner, but in the last 7 days of each 30-day period, certified patient or designated caregiver may have the next 30-day supply. The State of New York explicitly excludes edibles and smoking as a delivery method and all prices of cannabis products are set by the Commissioner of the New York Department of Health.
Marijuana and Health
Below are examples of some of the New York qualfied conditions that cannabis has been known to treat effectively.

Chronic Pain
Cannabis has been linked to providing moderate relief of chronic pain symptoms.

Sleep Disorder
Studies show that THC helps promote sleep by activating the endocannabinoid system's receptors.

Anxiety
Consumed in controlled doses, cannabis can alleviate anxiety and calm users down.

Lack of Appetite
THC, the main active ingredient in cannabis, has been linked to stimulating appetite.
Frequently Asked Questions
You will need to demonstrate your identity and New York State residency by providing your New York driver's license or ID. If you don't have a New York driver's license or ID you can provide a copy of a government issued identification card that contains your name and New York State address, a copy of a utility bill or the like which was issued within the previous two months, a copy of a current lease or similar document indicating residency in New York.
Talk to an expert in marijuana on-demand
Marijuana Advice from an Expert
Upon approval, our marijuana expert will contact you to you to provide non-medical advice on any marijuana-related topic.
Shopping and Product Advice
We know the marijuana market well and can point you towards the best deals, stores, and brands available today.
Usage & Dosage Questions
We can advise you on the many ways to consume marijuana and help you find a method you're comfortable with.